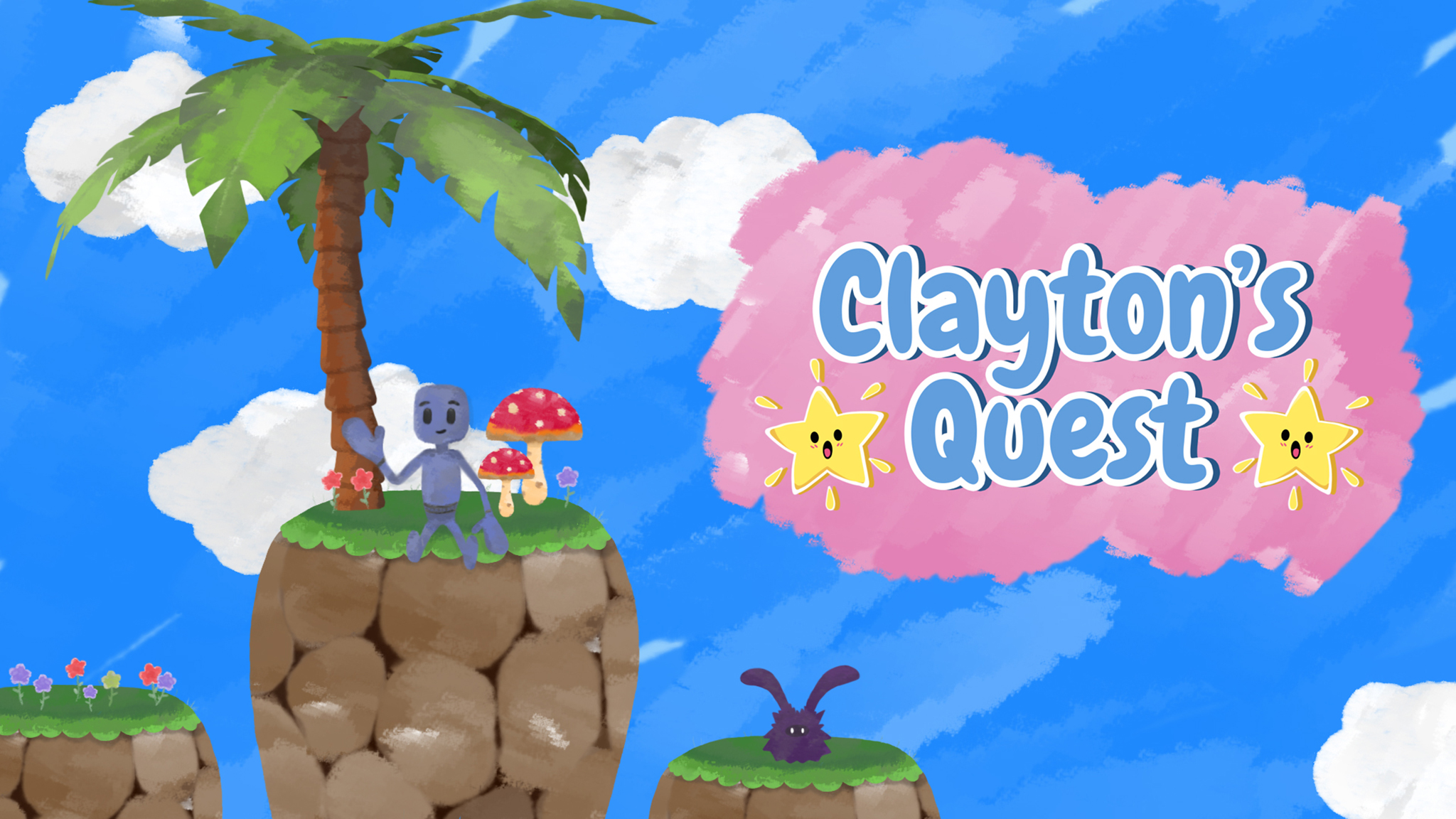 Clayton's Quest
A downloadable game for Windows
Clayton's Quest is a happy-go-lucky 3D exploration platformer.
Save your friends from the evil Dust Bunnies that have invaded Crafty Kingdom, Clayton's arts and crafts themed world! Jump, run, roll, and punch your way through five unique areas, finding secrets and treasures throughout!
Controls
Keyboard
Controller
WASD - Move
Mouse - Camera
Space - Jump
Left Click - Attack
Right Click - Ball Mode
Left Shift - Camera Recenter
Esc - Pause
R(Hold) - Respawn/Die
A - Jump
X - Attack
Y - Interact
Start - Pause
Back (Hold) - Respawn/Die
Right Trigger - Ball Mode
Left Trigger - Camera Recenter
Left Stick - Move
Right Stick - Camera
The Team
Claytons Quest was developed by Jamroot Games. All team members studied video game design and simulation at New England Institute of Technology and received our bachelor degrees in early Sept. Our team has worked previously on different projects together, but this game brought all 5 game developers together. We made this game in under 25 weeks. All donations will go to our hefty student loans!
Jamroot Staff/Credit
Social/Contact
Twitter - Link
Youtube - Link
Press kit download - Link
Email - jamrootgames@gmail.com

Email us with any questions, critiques, or ideas!
Spec Requirements
You'll need a somewhat decent gaming desktop / laptop. If you can run other high-performance Unity games, you should be fine.
At least 974mb of disk space.
Installation
Click "Download Now"
Launch Clayton's Quest Installer.exe
Click Next a bunch
Click "Play!"
| | |
| --- | --- |
| Status | Released |
| Platforms | Windows |
| Rating | |
| Author | Jamroot Games |
| Genre | Platformer |
| Tags | 3D, 3D Platformer, Action-Adventure, Casual, Colorful, Controller, Exploration, Puzzle-Platformer, Singleplayer, Third Person |
| Average session | About a half-hour |
| Languages | English |
| Inputs | Keyboard, Mouse, Xbox controller, Gamepad (any) |
| Accessibility | Configurable controls |
Download
Click download now to get access to the following files:
Clayton's Quest Installer v1.0.exe
123 MB
Comments
Log in with itch.io to leave a comment.
Very cute! Enjoyed playing it, wish you all well in your careers!
This is a well polished little adventure. Graphics are great, the audio is great and the controls are fantastic. Uses keyboard/mouse and xbox controller.
The puzzles are nice and easy I enjoyed every minute of part 1
I can't fault it to be honest.
Well done devs
regards
wobblyfootgamer

Really good game, Its art and design choice are really nice, the camera is really good, the physics are awesome, it reminds me of sonic, but in a 3D done right. Congratulations! If you continue developing this or other games i'm sure it will be a success. There are bugs and some design errors, but thats normal, it takes time to get it right. The only thing I think you should work more on is the story and character/player's motivation to do the tasks, but anyways, Its a really cool game!
"Player Motivation" was something that came up a lot actually, haha. Thank you for the nice post, it means a lot!
Hi ~ I enjoyed Playing the game but there was a time when I almost completed the stage (with those paper wight) but had to "save and quit" when I came back I was back there and all npc's told me I had done the job but the key and other weights I collected were all lost. What should I do ?

Unfortunately we realize that objects don't seem to be saving on reload so you'd have to start over if you wanted to complete the area. Sorry!
well, I actually did and I got to the finish screen .. but i got there without doing the quest for the big bunny (last area) and i went back again but there was no big bunny right from the start I finished without collecting all the origami's (there was only 1 missing) so I wasn't able to discover what those were for but it was a good adventure and I liked it.
Bug Report!

UI issue when you talk to someone and open up the pause menu, it's just the dialogue box (from what i could gather) that acts weird when you talk to someone and go into the pause menu, the text in the box disappears, this can be seen at 2:42
Mushroom spazing out on screen near the huge weighing machine, i dont entirely know why but you hit the blue mushroom thats on a tiny side path at the end, the mushroom starts showing up on the screen glitched like, this can be seen at 3:56
the weigh at 6:35 , this one was just funny and totally didnot make sense so i left this one here
And finally, this one was the worst one. For whatever reason, the key was never saved (well, the fact that i got the key and left it on the ground was not saved). I got the key from the man who tells you to save his friend (the one thats located near the massive weighing machine) and well, i saved the game and quit, the only problem is that when i returned, THE KEY WAS GONE! look at 7:18 - 9:18 , warning i act a small bit cringy (just a veeeeeeeeery tiny bit....yeeeeeah lol)
Because of the last i legit cant continue on with the game and have start from the start losing about an hours progress......
Ouch, we're sorry that the game broke for you! :(
To be 100% honest, we've released the game in as finished a state as we could before the team split up after our degree ended. It was our capstone project at New England Institute of Technology and, without being at the school, we've all decided that we would keep the game at it's final state and release it as it is.
Long story short: Sorry for the frustration! Unfortunately, we won't be able to fix the bugs with the game. We do appreciate you trying it out though, and we hope you had fun with what you were able to play so far! There is another zone that you can visit regardless of beating the one you're stuck in if you'd like to continue playing, and the hidden origami pieces are also still possible to find regardless of any game blockades.
oh, i see
and yeah in the future i might try to get to the hidden zone you mentioned|

And good luck with all of your futures :D
this game is honestly, one of the cutest games i have ever played! i love the character models and the general level design (with basic school stationary, i really liked that detail lol)
My only issue with the game is the hanging mechanism, both actually trying to climb and the hanging itself(it tends to look weird when you hang off a rounded off platform)
But overall, i loved this game and am actually quite surprised you didnot charge any money for this game